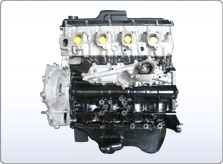 The reconditioned engines for Vauxhall go through a mechanical analysis inspection before they are sent for a delivery or fitted by our engine specialists. Our experts have the knowledge and capability to handle issues on the subject of engineering faults and therefore guarantee that the excellence of Vauxhall engines is sustained. Remanufactured engines do not mean defected engines. Each and every element is inspected and examined separately, particularly the parts that are normally subjected to wear and tear, each part that is not capable of performing at standards that are set by the quality control department, is right away replaced and the whole engine is reassembled into genuine condition like it was when it was new. We guarantee that the products sold are in superior functioning provision. We are, in addition to providing top quality services, offer a warranty on the reconditioned units we sell. if you are looking for some savings on what it costs to overhaul and sustain your Vauxhall you have reached the exact place too as we promise to offer you the most excellent and finest of both worlds, quality and costs.
Why Buy From Replacement Engines?
Replacement Engines are comitted to offer you the most excellent deal to suit your situation. All the quotes we offer are hundred percent non obligatory and free of cost. Replacement Engines network consists of excellent dismantlers, rescue corporations to source engines and recondition them in our very advanced engine workshops, offering an assorted range of rebuilt Vauxhall engines. Our inventory is updated constantly, therefore we have the most comprehensive stock of recon engines for Vauxhall. There is a 99 percent chance that the remanufactured Vauxhall engine you are searching for will be in stock and if it isn't, we will scour through our sources to find for you. You do not have to worry about the fitting either as we offer the fitting services at our fully equipped workshop, by our well trained and experienced staff. All the units we sell are covered by warranty for your extra peace of mind. Fill in the details of your Vauxhall in the widget or call us to speak to one of our advisors to get a quote. Act now to get your Vauxhall back in action.